Location:

I usually conduct therapy in office face-to-face. Exceptions are made for established clients. Telephone, Skype and electronic consultations are available in some situations. Contact me for more information about these service possibilities. I also conduct phone and electronic supervision for AASECT supervisees, and for other health care practitioners.
Structure:

Sessions are usually 50 minutes long, starting at the top of the hour, and ending at ten of the hour. Longer sessions and double sessions are available when warranted. Most clients prefer sessions once a week, others prefer more often than that. Some clients finish up, then return a year or two later for a tune up, or to deal with a new issue. Determining the frequency and duration of treatment is a collaborative agreement between the therapist and the client.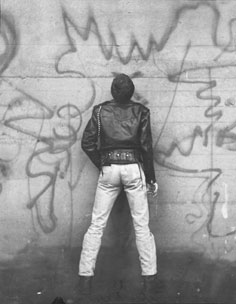 Under the Bay Bridge, Photo: Don Allen, 1975s
Appointments:

When I provide you with two or three optional appointment times, please know that others may have also been offered those times. First grabber gets it.
Fees:

The standard fee is $200 per session. I keep three slots for sexology/psychology students at $100 per session. Some sliding-scale slots are available at times. Payments are made at each session by check or cash or in advance via Venmo or Paypal.
Insurance:

I mail out monthly statements to clients who wish to seek reimbursements from their insurance carriers.
Cancellation:

The client will be charged for appointments cancelled in less than 24 hours. Insurance carriers do not reimburse for missed sessions.


Consent forms:

Treatment Policies
Consent to Treatment
Release of Confidentiality